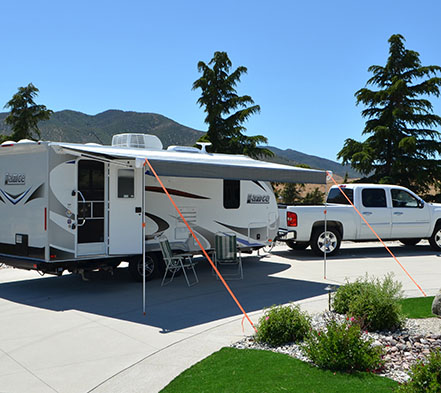 Awning Stabiliz'r
---
Carefree's Awning Stabiliz'r is two support poles designed to offer further support to the Latitude, Longitude or Travel'r awnings during periods of prolonged usage or extended stays at your campsite.
No drilling or dealer installation required! Quick, easy set-up as poles have an adjustment lever to quickly set the poles to the desired height. The Awning Stabiliz'r Pole Kit also includes stakes and straps to ensure a secure fit.
Use caution when using with any awning that has an automatic retract function. See

Awning Owners Manual for specific details.
Upgrade to HD Stabiliz'r
The HD Awning Stabiliz'r is a new, Heavy-Duty version of the Awning Stabiliz'r pole kit and provides vertical support to your awning. It is the first pole kit to accommodate both box awnings and awnings with roll bars making it versatile as it will fit Carefree and competitive brand awnings as well. It comes standard with a stakes and tie-downs to secure the poles to the awning and the ground. Want to further stabilize your awning in less than 5 minutes? The HD Awning Stabiliz'r is your solution!