+

RV Products by Carefree of Colorado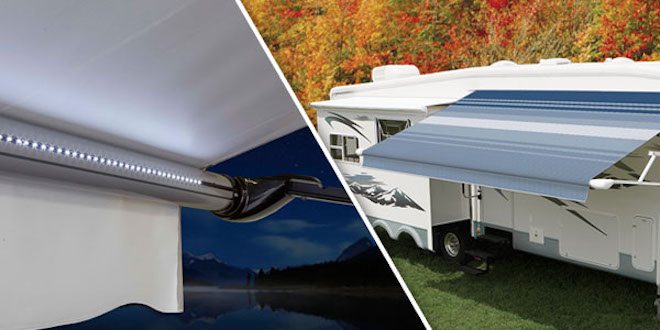 Carefree of Colorado has been manufacturing RV Awnings and RV Accessories for over 40 years. We have designed a complete line of awnings and accessories to outfit your coach and make your RV adventures fun and more carefree!
We offer Awning Mats to cover the ground under your RV awning or Ground Blankets to cover the ground and keep you and your family from getting wet and dirty while out picnicking. We have LED lighting that installs directly into your RV awning to light up your campsite after the sun goes down and it comes in various colors depending on how you would like to light up the night. Need an area to store goods while cooking on the barbecue? No problem, as Carefree created the Storage Locker which attaches directly to the open slot in your RV awning and provides you exterior shelving to hold condiments, cooking utensils, paper towel rolls, reading materials, the kid's toys, and much more.
In addition to our RV Awnings, Carefree has also developed a variety of easy-to-use Shade Products. We have cut-to-fit RV window covers that are designed and measured to cover the outside of your windows perfectly. We also provide power sun shades and visors to help block the sun from the windshield and side windows while driving or sitting inside of the RV, helping to keep it cool. The EZ Zip Blocker, Sun Blocker, and Side Blocker are designed to be installed in the open slot of your RV awning roll bar, and they block 85% of the sun's light without obstructing your view. This increases the shade underneath your awning from all angles, especially in the morning or late afternoon when the sun is lower and able to shine underneath your awning. The Canopy Extension is a great way to expand the coverage of your awning, as it easily attaches to the open slot in your awning roll bar. The Canopy Extension is 8' and comes in widths from 12' to 20' in 2' increments. Poles and tie-downs are included with the canopy extension to lift and secure it when it is fully extended.
Carefree's RV rooms install directly underneath your awning to expand your living space and protect you from the elements. Our Buena Vista+ and Vacation'r rooms are easy to set up; they require no poles, rafters, or permanent fasteners to attach to your RV. They are also lightweight and store in their very own travel bag. They're available in sizes ranging from 10' to 21' and are designed to fit RV awnings that extend 86" to 120" in a flat pitch setting and 108" to 138" in a steep pitch setting.
As you can see, Carefree of Colorado designs and manufactures a variety of RV Accessories and RV Shade Products to enhance your campsite. Whether you want to expand your covered living space, stay protected from the elements, be sheltered from the sun, or simplify your life by adding accessible storage outside of your RV, Carefree has you covered.