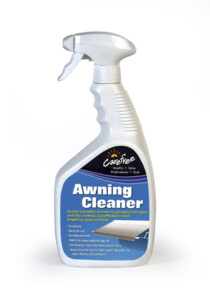 When we think about RV maintenance, awning care and awning repair don't typically top the priority list. Since your awnings are on the exterior of your RV, camper or trailer, they are constantly exposed to weather, debris, and dirt. To extend the life and appearance of your RV awning, a little preventative care can go a long way. Over time, stains, mold, and mildew can build up without regular maintenance. To keep your RV awnings in good shape for all of your travel adventures, we have compiled a few how-to tips and instructions.
Vinyl or acrylic?
Chances are, your awnings are made out of vinyl or acrylic fabric. Carefree vinyl awnings feature superior construction with the most durable vinyl specs in the industry.  They are built to be mildew resistant, but mildew can still form on the dirt and dust that collects on the fabric and in very hot and humid conditions. If your vinyl awning is moderately clean, cleaning with a soft brush, mild soap, and water will do the trick.
Acrylic fabric is a woven cloth that lets air circulate through the fabric. This air circulation allows the fabric to dry quickly when it gets wet. Acrylic fabrics are water repellent, but not waterproof.  Use a stiff brush, water, and mild dish soap, or you can use Carefree's Awning Cleaner.
1. Brush off loose dirt.
2. Hose down with water.   Temperature should be cold to lukewarm, never above 100° F.
3. Prepare a cleaning solution of water and mild soap such as Woolite® or Dawn® dishwashing liquid.   Never use a detergent.
4. Use a soft bristle brush to clean.
5. Allow cleaning solution to stand for 5 minutes.
6. Rinse thoroughly until all soap residue is removed.
7. Air dry.
A few reminders…
One of the best ways to keep the fabric looking good and to delay the need for deep or vigorous cleanings is to simply hose fabrics off on a monthly basis with clean water. Usually, a thorough cleaning will be needed every two to three years and can help prevent the need for serious awning repair down the line.
When cleaning the fabric, it is important to observe the following:
Never remove the awning end caps. The springs inside cause tension and can result in serious injury!
Air-dry only and never apply heat to the fabric.
Always allow the fabric to dry thoroughly before rolling up the awning.