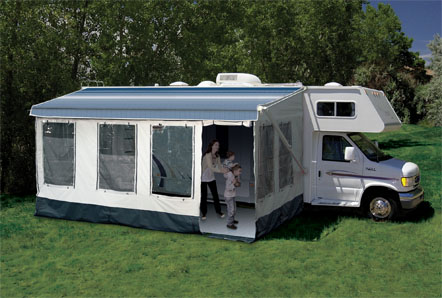 Buena Vista +
---
Fits all brands of traditional and 12V awnings with vertical arms from 10′-21′.
Fits Carefree Campout and Freedom awnings from 3-5 meters.
It's lightweight, convenient and easy to set up. Nearly doubles your living space! Just attach it to your awning, and you're done!
Setting up the Buena Vista is quick and easy. The door can be mounted on the left or right side, and there's an easy to use wall seal. It takes less than 15 minutes to set up. It's perfect for picnics and relaxation. When you're ready to hit the road again, it goes back into a convenient storage bag. There's an extension panel for odd-sized rooms. Features include ground stakes and skirting. Clear weather-view zippered panels on the outside keep rain out, and the zippered panels on the inside are for privacy. Includes a one piece skirt.
Fabric: Tent material
Color: Gray with dark gray trim
Fits Awning Canopy Extension: 8′ (standard)
Fits traditional manual and 12V awnings with vertical arms in sizes:
10′-11′
12′-13′
14′-15′
16′-17′
18′-19′
20′-21′
And Carefree Campout and Freedom awnings in sizes:
3 Meter (9′, 10″)
3.5 Meter (11′, 6″)
4 Meter (13′, 1″)
4.5 Meter (14′, 9″)
5 Meter (16′, 5″)
Weight: approx. 36 – 51 lbs. depending on length.
Mounting Requirements
10′-21′ awnings
Patio Awning with center arm to center arm measurements of 10′-21′ with Awning rail to ground measurement of 86″ to 120″.
3M-5M Carefree Campout or Freedom awnings
Size refers to Campout (end of bag to end of bag) or Freedom (end of case to end of case) measurements. Fits awnings with a bottom of case or bag to ground measurements of 86″ to 120″.
Packaged Buena Vista Includes
Room, skirting, ground stakes, two rafter arms, tote-style storage bag, small storage bag for stakes, and installation/owner's manual.
---

No need to drill holes in the coach for installation, simply attach to existing awning, no other tools required!
Comes in an easy-to-store bag. The Buena Vista packs up small but opens up big.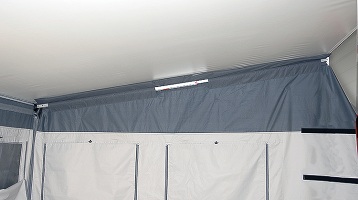 The Buena Vista's support rafters keep both a taut canopy and the room sealed up tight.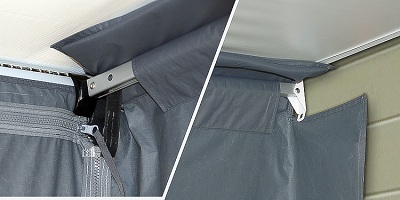 The ends of the Buena Vista lock up tight against the vehicle and the roller or awning case without drilling or permanent mounts.

The Buena Vista increases living space and allows enjoyment of the outdoors.

No drilling or dealer installation required!
---