Spring and summer may make up prime RV season, but that doesn't mean you have to put your RV into storage the second the leaves start changing colors. There are many wonderful perks to traveling in fall, and some RVers even prefer to hit the road during this beautiful season over the sweltering summer.
The ambiance of fall traveling is much different than in the summer. The weather is cool and crisp, while the leaves are changing into calming shades of festive oranges, earthy browns, and burnt yellows.
There aren't as many people on the road, so RV parks tend to be less crowded, opening up more options and offering more seclusion. Because the weather is also much cooler, daytime hikes won't be unbearably blistering and you won't have to run the AC into the ground. Another major benefit to fall RVing is that summer rates won't be in effect, meaning you should be able to find lower prices at many top tourist destinations.
If you're ready to venture out into the majestic autumn air but aren't sure where to go, here are a few amazing destinations that won't disappoint: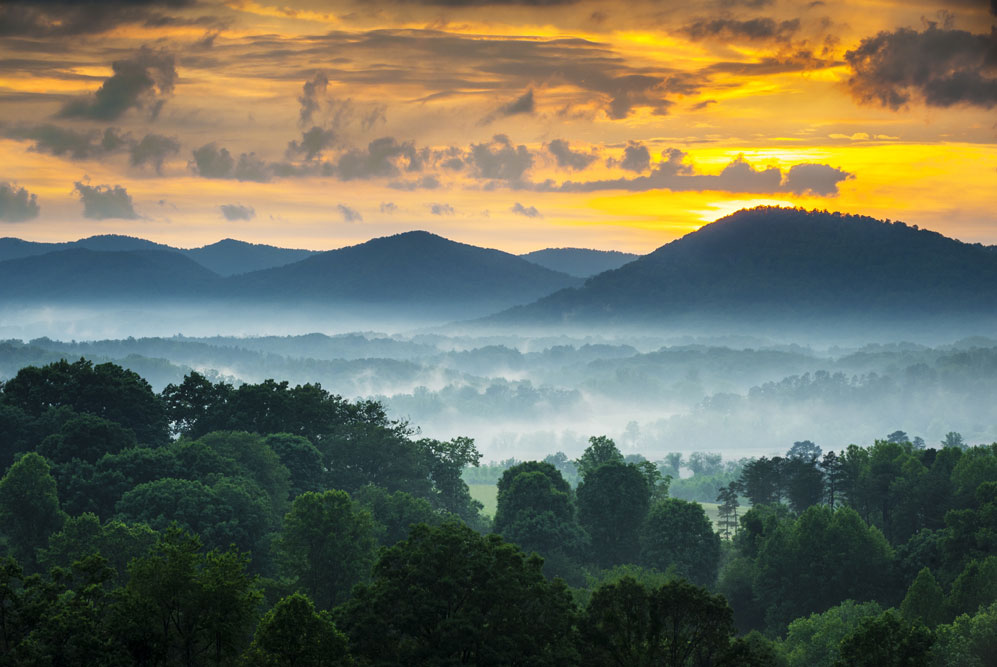 Asheville, North Carolina
Asheville, North Carolina is a popular fall destination for good reason. The mountainous scenery boasts swarms of mesmerizing fall colors, which are the most vibrant during the month of October but extend well into November.
If you enjoy going on enchanting fall drives, you won't want to pass up an opportunity to travel along the Blue Ridge Parkway, a 469 mile scenic adventure that overlooks hypnotizing views of incredible mountain landscapes. You can of course commit to the entire parkway (it's often touted as one of the most famous drives in America), but if you're looking to stay close to Asheville, there are plenty of nearby places to pull over and overlook amazing mountain views, stop and enjoy a picturesque picnic, or embark on a beautiful hike (there are trails ranging from easy to difficult).
Besides the abundant opportunities for outdoor activities, there are plenty of other ways to absorb Asheville's unique culture. Guided tours will give you a close-up look at some of the city's rich history, while food tours will allow you to sample tasty bites from some of the finest local restaurants.
Asheville is also home to a vibrant art scene, so whether you're hoping to hear some authentic street busking, view a local art gallery, or watch community musicians and/or theater groups, you'll have your pick of the artsy litter.
Where to stay?
Asheville has many campgrounds and RV parks to choose from, but Campfire Lodgings, located just 10 miles north of the city, is one of the most highly-rated options.
Nestled right in the breathtaking Blue Ridge Mountains, you'll love the stunning views and serene atmosphere. With a charming pond and 4.5 miles of walking trails right on site, you'll be able to immerse yourself in the whimsy scenery without having to stray too far from your RV.
Each site will accommodate full hookups for 20, 30, and 50 amp RVs.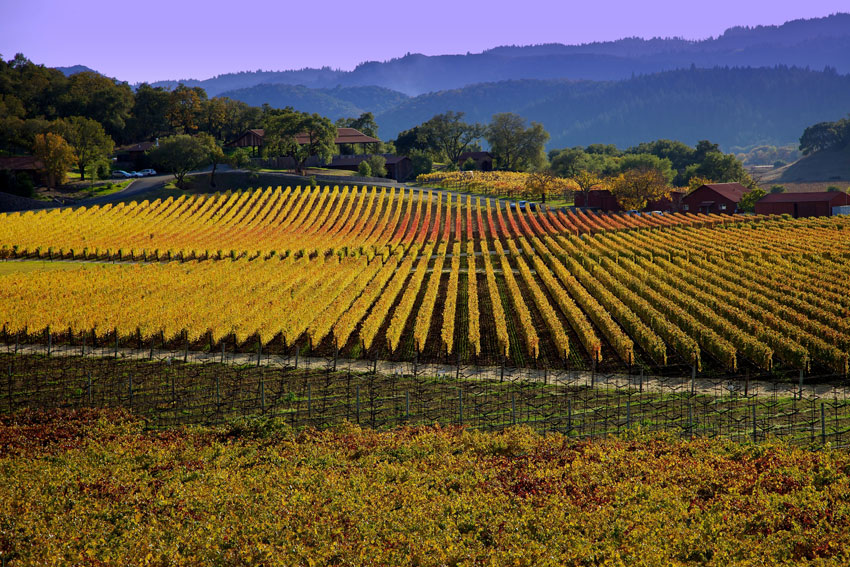 Napa Valley, CA
If you like the idea of sipping wine while being surrounded by stunning fall foliage, an autumn trip to Napa Valley in California may be the perfect vacation for you.
With moderate temperatures and jaw-dropping terrain, Napa Valley is an absolute must of a destination for any RVer. In this magical area, you'll find over 400 premier wineries to choose from. September-November tends to be the peak tourist season in Napa Valley, as that's when harvest season is in full swing (visitors can even participate in smashing the grapes). If you don't like swarms of tourists, crowds and prices tend to thin out in late November.
You can tour the countless wineries on your own watch, or you can let someone else do the work for you by going with a guided tour. If you do choose your own wine-related adventure, just make sure to be responsible. Buses and taxis (even limos!) can pick you up from most RV parks, ensuring you get to enjoy the nectar of wine country in a safe, fully relaxed manner.
Although wine is what Napa Valley is most famous for, there's much more to do than just sip on cabernet. Hot air balloon rides, redwood tree-adorned hiking trails, exquisite fine cuisine, and charming boutique shops are just a few of the ways you can fully indulge your senses in this captivating part of the country. If you'll be in the area during November, you can even catch Napa Valley's very own independent film festival.
Where to stay?
There are a few RV parks in town, but the Napa Valley Expo RV Park stands out with its high customer ratings. It's located in walking distance to downtown, so you won't have to worry about how to get to and from your fine culinary or wine tasting adventures. With free wifi and full hookups, you'll feel right at home.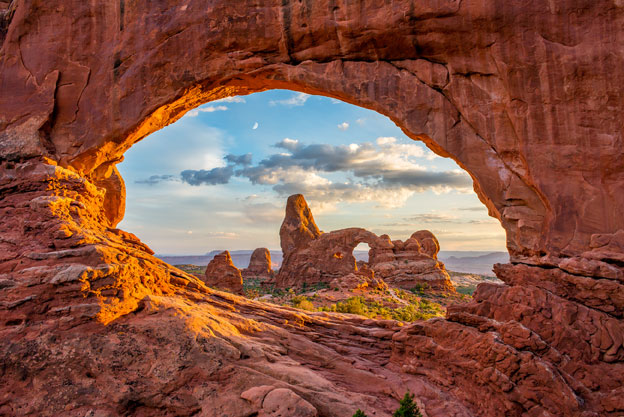 Moab, Utah
Located in eastern Utah, Moab is a mind-blowingly beautiful destination that offers visitors access to two extraordinary national parks: Arches National Park and Canyonlands National Park. Accompanied by the serene Colorado River, the otherworldly depths and unique red-rock terrain of the two parks almost make you feel like you're visiting an entirely different planet. Because temperatures can be excessively scorching in the summer, fall is the perfect time to make your way to visit.
You'll see right away why this area, spanning thousands of acres, is such a hotspot for outdoor enthusiasts. Between hiking, off-roading, kayaking, mountain biking, ziplining, base jumping, and rock climbing, there is no shortage of opportunities to nurture your adventurous spirit.
When you've had your fill of adrenaline, there are plenty of other ways to enjoy yourself. Moab Giants is an excellent place to visit if you are interested in learning about the dinosaurs that once roamed the area. With life-size dinosaur replicas and an interactive museum, it's something kids and adults alike will find both entertaining and educational.
For being a relatively small town, Moab certainly doesn't skimp on dining opportunities. From small eateries to high-end cuisine, there are plenty of options to pick from whether you're craving Thai food or BBQ.
Where to Stay?
Moab is a popular RV destination, so there's quite a few RV parks to choose from. Okay RV Park is only a short drive to the main attractions, and reviewers agree that the prices are good, the staff is friendly, the noise level is pleasant, and the facilities are clean. Full hook-ups are available for 30 and 50 amp.
Moab Valley RV Resort and Campground is another option that's only five minutes away from Arches National Park, though reviewers do state that the campsites are tightly situated right next to each other.
Bon Voyage!
Hopefully these locations will help inspire you to hit the road during the gorgeous season of autumn. There are plenty of scenic destinations that are perfect to visit during fall, so don't stop your adventures just because summer is over.
If you do go RVing during this festive season, just remember that the weather can change swifty, so do your due diligence in taking proper precautions.
Here's to safe and happy travels down the road!
Carefree of Colorado Can Keep Your RV Travels Shaded Every Season
The weather may be cooler during fall, but that doesn't mean the sun won't make its overbearingly bright presence known. You can keep cool, comfortable, and shaded each and every season with our complete line of RV awnings and accessories.
Browse our extensive selection, and contact us with any questions. We're here to help you have the best possible adventure on the road!