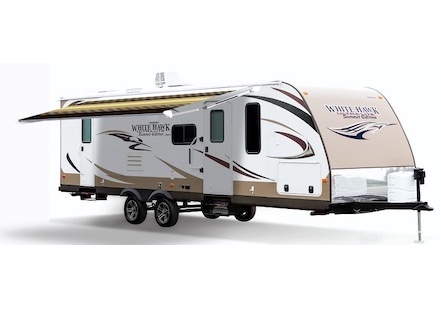 The next generation of RV awnings.
The patent-pending Latitude allows freedom to position an awning on an RV without having to allow space for the vertical arms of traditional RV awnings. The innovative design of the Latitude allows for unrestricted head clearance under your awning without having to worry about typical vertical arms. In addition, the sleek look of the Latitude complements RV's and their new upscale paint jobs.
Latitude is an OEM (Original Equipment Manufacturer) product available on select RV's only, ask the manufacturer of your choice to include the Latitude awning system on your next RV purchase.

070005 Latitude Installation Manual


 Latitude Owner's Manual with DR


Latitude Owner's Manual


Latitude Owner's Manual with BT12 Wireless Awning Control System


 Latitude Over-the-Door (OTD/WA) Owners Manual | Exclusive to the Lance 2465


Latitude Over-the-Door (OTD/WA) Installation Manual | Exclusive to the Lance 2465


Service Manual


Latitude Insert Sheet
---
Single or Dual Pitch models – for maximum shade with no adjustments.

Easy One-Touch Operation™.

LED lights at the roll bar.

Fast, easy installation.
Each Latitude also includes two exclusive Carefree patent pending features.
Direct Response: This motion-activated feature allows consumers to never again worry about leaving their awning unattended in windy conditions. The awning automatically retracts when affected by constant motion.
Available in black or white hardware and all of Carefree's new vinyl fabric patterns.
Designed for Motor Homes and Travel Trailers the Latitude is the latest innovation from Carefree that delivers quality, value, performance and style.