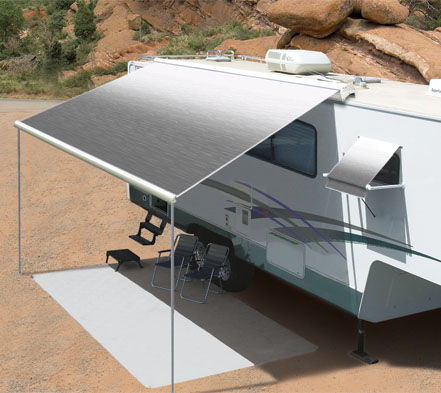 Freedom Roof Mount Awning
---
No Latches to Unlock
The Freedom Roof Mount has all the same features and benefits as the wall mount version, except instead of mounting to the side of your unit, it mounts up on the roof. As it opens the arms unfold as you turn the hand crank or push a button (12 volt models only). The support arms fold out of the lead bar once it's at eye level and within easy reach. The support arms adjust easily with flip lock controls to adjust for awning height. To close, just fold the support arms up into the lead rail and crank in the opposite direction – or simply push a button on the motorized awning; the awning case closes and locks automatically. The 12V model includes a manual override if power is lost.
Specifications
Operation: Manual Crank or 12V push button
Length: 2.5m – 4.0m in half meter increments (endcap to endcap)
2.5m (8'5″)

3.0m (9'10")

3.5m (11'6″)

4.0m (13'1″)
Height: 6.5″
Depth: 3.6″
Weight: 2.5m = approximately 50 lbs., 4.0m = approximately 70 lbs.
Canopy Width: Actual fabric measures approximately 6″ shorter than awning length end cap to end cap
Canopy max extension: 2.5m = 79″ and all other sizes are 98″
Lead Rail Drop @ max extension: 12″ – 36″ (adjustable)
Case color: Satin, White or Black
Fabric: Vinyl or Acrylic
Power requirements (For 12 Volt Push Button Models Only)
12V, 15A
Packaged product Includes
Freedom awning, 2 bottom brackets for support legs, all electronics and installation/owner's manual.
NOTE: Roof mount brackets sold separately.
Fabric Options
Available with acrylic or vinyl canopy.
View Carefree's patio awning fabric options
Case Options
Available in standard case colors: white, black, and satin.
---
Quick, Easy, Manual Operation
Easy operation
Sleek look
Fast setup
Self contained support arms
Unmatched beauty
Fully protected canopy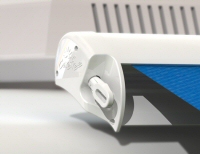 Manual Model
Comes complete with telescoping hand crank.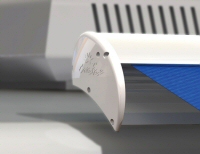 12V Power Model
Includes emergency manual override in case of power loss.
Full or Partial Extension
If you don't have the space to crank your Freedom awning out to full extension, you can stop at any point, unfold the support arms and secure them to the ground or back to your camper. The case is available in either white, black or satin finish.
---