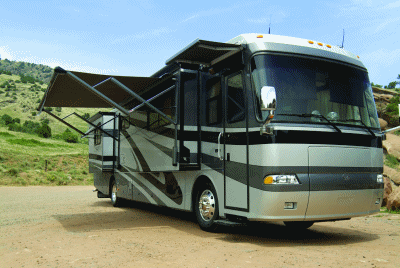 12 Volt Carefree Eclipse
---
Eclipse is the industry's 1st 12V power awning that features instant pitch adjustments!
Push and hold the button to extend the Eclipse to partial or full 8′ extension in just seconds. As the billow-proof worm-gear motor unrolls the canopy, the rafter arms glide up the vertical track on the side of the coach to deploy a stable, truss-like, overhead support.
Push and hold the button to retract and the Eclipse will roll up tight against the coach. That's it! There's nothing to lock or latch. Carefree's exclusive worm-gear drive motor locks the roller for travel and provides the greatest assurance of absolute protection against billowing.
Buy a complete Eclipse or upgrade your existing Carefree or A&E roller assembly with a 12V Eclipse Arm Set!
12V Hardwired Eclipse Arm Set:
Must be wired into a 12V source inside RV. The arm set includes one interior operating switch. Direct Response and Remote Operation options are also available.
Door Clearance Note:
Minimum distance from top of door to awning rail: Square corner doors: 7″ for metal armored rollers; 6″ for vinyl rollers. Round doors: 6″ for metal armored rollers; 5″ for vinyl rollers
Slideout Clearance note:
Universal Arms will clear slideout at any pitch setting; if you choose to lower pitch beware that the canopy MAY contact slideout.
Arms, FLXguard, Uniguard & Alumaguard Colors:
White, Black, or Satin
Fabric Colors:
Choose from Vinyl, PolyWeave, Standard Acrylic, or Custom Acrylic colors. Get custom color factory orders in just 72 hours!
View Carefree's patio awning fabric options
Sizes:
12′ – 21′
Universal Arms
4.25″ wide by 69.5″ long with extended pitch range from 6″ to 22″. This arm can retrofit existing Carefree or A&E/Dometic manual awnings with 8′ extensions. Ideal for mounting over slideouts and close-clearance doors (rail to top of door), and for travel trailers with a minimum rail-to-ground measurement of at least 8′.
Note: Older, steel roller 18′ – 21′ awnings must be replaced with a Carefree aluminum roller (special pricing for replacement tube with purchase of arm set).
---
Billow-proof, worm-gear drive motor
Automatic Self-Leveling Retraction from any pitch
Secure partial extension performance
Highest head clearance of any vertical arm awning
Revolutionary "Truss Support" for superior strength
Exclusive "Instant Pitch Adjustment" – Six pitch adjustment settings for more shade

NEW! FLXguard
FLXguard is the latest innovation from Carefree. This patent pending lightweight yet highly robust weatherguard offers the same protection properties of more expensive, heavier metal wraps but at a fraction of the cost.

Adjustable Pitch
The Eclipse provides the most versatility for adjustments for maximum shade. You can instantly select from six instant pitch adjustments. No other competitor 12V awning matches the Eclipse's flexibility. The Eclipse stays secure no matter the pitch and with partial or complete extension.

Direct Response
Available with Carefree's exclusive Direct Response Electronics and optional Remote Control.
Innovative Direct Response Electronics include the Motion Detection System and Easy-to-Use Controls. The Motion Detection System senses canopy movement and the Eclipse automatically retracts when it senses excessive movement.

Wireless Remote Control
The Eclipse can be conveniently operated from anywhere near your RV with the Wireless Remote Control Upgrade Option. The wireless remote option must be purchased along with the Direct Response option.

Easily raise or lower the front, rear, or both arms
For the best protection against rain, adjust one or both arms to their lowest setting. Choose from six quick arm adjustments to get the perfect pitch for shade. Set it and forget it! Simply push and hold the button to retract the Eclipse from any pitch setting; there's no need to level the awning before you roll it up. The Eclipse will self-level for you – And it will roll back out to your last setting. There is no need to level the awning before rolling it up!

Unmatched style, beauty and selection!
Notice the integrated style, the trim, the finish and the attention to detail in every part. The Eclipse is available with the industry's broadest selection of fabrics: vinyl, PolyWeave, or custom acrylic colors. The Arm Sets are available in standard White, Satin or Black.

Stable and Secure Overhead Truss Support System with Maximum Headroom
Get the unobstructed patio area access of a lateral-arm box awning and the stability of a traditional vertical arm awning. Eclipse will not buckle or flop in light winds. The revolutionary truss design keeps the awning stable and gas struts on both arms assure a tight canopy. Direct Response Electronics are available for total peace of mind.
---