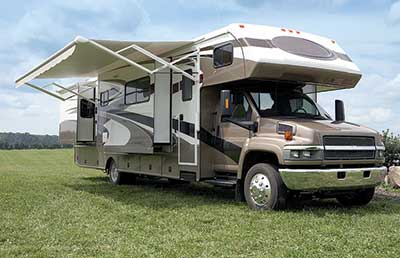 Eclipse XL
---
Eclipse XL expands on the industry's 1st 12V power awning that features instant pitch adjustments!
The Eclipse XL offers the strongest arm set of any Carefree awning while also boasting a longer 9' extension. This means you get more shade and coverage next to your RV! The Eclipse XL is retrofittable so you can upgrade your existing manual awning to a powered awning or your existing Dometic or Solera roller assemblies to unsurpassed durability and performance. Just swap out the arm set!
The Eclipse is also technology compatible. What does this mean? It means that you can install Carefree Connects Wireless Awning Control System (Link this please) and control your new Eclipse XL using the Carefree Connects mobile app on your favorite smart device. The Carefree Connects system is Bluetooth enabled allowing easy connection and maximum control of your awning from the comfort of your chair! No more getting up to adjust your awning!
Eclipse XL arm sets come in either black or white hardware with lengths from 8' to 21'. It requires a flat, unobstructed 70" x 4.5" mounting area for each arm to retrofit to your RV.
Eclipse XL roller assemblies come standard with Carefree's one-of-a-kind FLXguard fabric protection to ensure the longevity of your new awning fabric.
12V Hardwired Arm Set
Requires a 70" x 4.5" unobstructed mounting area for each arm
9' extension (1' greater than standard awnings)
Strongest arm of any Carefree Vertical Arm awning
Size Range: 8' – 21' lengths
---
More shade, more patio coverage with 9' extension

Strongest, heavy-duty arm

Auto-Retraction (With Carefree Connects System)

Six position, instant pitch adjustments

No locks or latches

Fabrics come standard with FLXguard
Self-Leveling retraction with Memory Pitch™

Technology compatible (Bluetooth Wireless Awning Control)

Secure partial extension

Hassle free, One-Touch™ extension and retraction

Motor locks roller in place during travel

FLXguard
FLXguard comes standard with any Eclipse XL roller offering robust protection for your awning fabric. This patented fabric protection option is comprised of a specially formulated polymer and is designed to be flexible yet as protective as more expensive metal wrap. Available in Black, White, or Carbon Fiber pattern options you can perfectly match your RV's style.

Unmatched style, beauty and selection!
Notice the integrated style, the trim, the finish and the attention to detail in every part. The Eclipse is available with the industry's broadest selection of fabrics: vinyl, PolyWeave, or custom acrylic colors. The Arm Sets are available in standard White, Satin or Black.

9' Extension
The Eclipse XL offers the longest awning extension of any Carefree vertical arm awning. The 9' extension is 1' greater than that of standard awnings which provides you with more shade and covered patio area.

Strong, Heavy-Duty arms
Eclipse XL, along with the Eclipse, are Carefree's strongest vertical arm awnings. This ensures maximum durability no matter where you are camping. The Eclipse XL arm set is 4.5" wide to offer a wider base for increased rigidity and strength when extended. Arm sets come available in Black and White hardware options.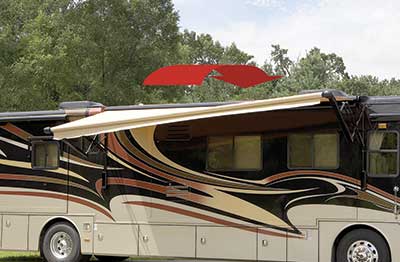 Memory Pitch™
The Eclipse XL features Carefree's Exclusive Self-Leveling Retraction with Memory PitchTM. This allows you to adjust each arm independently so you can maximize your shade. Upon retraction, the awning self-levels and then when you reopen it remembers the last pitch setting and opens up to that exact pitch. So, set it and forget it!

Bluetooth™ Enabled Wireless Control
The Eclipse XL also comes with the optional Carefree Connects Wireless Awning Control System (Please link this to connects page). This allows you direct control of your Eclipse right from your smart device using the Carefree Connects mobile app. You can extend, retract, adjust the LEDs brightness and even control the sensitivity of your motion sensor too.

Auto-Retraction during inclement weather
The Eclipse XL comes with optional Auto-Retraction via the Carefree Connects Wireless Control System. With the wireless, Bluetooth enabled motion sensor, your Eclipse XL will detect sustained motion from inclement weather and then automatically retract your awning so it does not get damaged. With the Carefree Connects app, you can adjust the sensitivity of your motion sensor to make sure it works exactly how you would like it too. The app also notifies you if the awning does retract automatically from wind! Get peace of mind with Carefree's Eclipse XL and Carefree Connects wireless control.
---