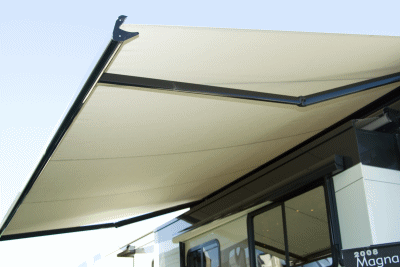 Apex
---
The Apex Patio Awning offers the coach owner an awning system that provides as much or as little shade as required. The canopies are housed in an aluminum case that easily blends in with the coach roof.
Each unit is equipped with Apex lateral support arms that are the strongest available on the market. No vertical arms interfere with coach sidewalls or equipment that may be mounted on the roof. These arms can also be adjusted to vary the canopy pitch up to 3 feet (it is strongly recommended that service and adjustments be performed by trained technicians).
The unique and innovative 110V electronic control system provides Carefree's newest Direct Response system with interior pushbutton controls for standard extend/retract functions. At the master control panel the auto-retract system can be engaged to automatically retract the awning in windy conditions. Sensitivity can be set to respond to a variety of wind speed conditions. An RF remote is furnished with the Direct Response system.
Apex is an OEM (Original Equipment Manufacturer) product available on select motor homes only, ask the manufacturer of your choice to include the Paramount or Apex awning systems on your next motor home purchase.