The RV Lifestyle & Music Festival Scene
When we started road tripping to music festivals about five years ago, we were humble campers. We pitched our tents beside our car at the Lockn' Music Festival in Central Virginia. That September weekend was warm, but the setting was quaint, and we were happy just to be camping at our first music festival. Truth was, we were about to become part of a scene that would change our lives – and that of millions of campers and music fans nationwide.
Music festivals are amping up like the volume on the PA system. From Bonnaroo to Coachella to a growing lineup of shows, including destination wine and food festivals, they're luring enthusiasts. We saw that first hand and were committed to being part of the scene.
The next year, we pulled the travel trailer 930 miles from Fort Lauderdale to Arrington, VA, to set up camp amid the comfort of an AC'd glamper. We've hit campgrounds throughout our home state of Florida and added about a half-dozen festivals each year. Along the way, we've learned more about camping, glamping, setting up a campsite others want to drop by, and making the most of every festival experience.
Wanee Music Festival
Most recently we set up camp at the Wanee Music Festival amid the towering oaks at the Spirit of Suwannee Music Park in rural north Florida. Beneath and around our Carefree of Colorado RV awning and shade, our encampment featured festival tapestries, carpets and groundcovers, laser lights and Bluetooth speakers, and chairs and hammocks ringing the campfire. It was a multimedia experience. And that was before we stepped foot in the festival fairgrounds.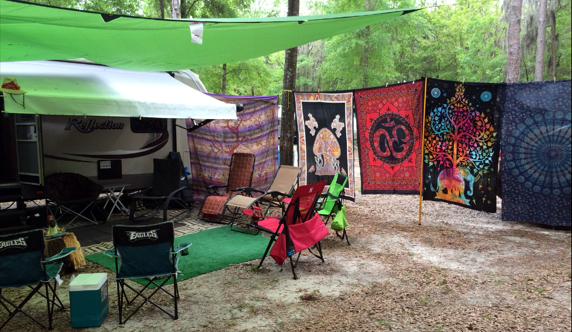 The smell of bacon cooking and coffee perking in the outdoor kitchen lured early risers passing by. Those up past the late set were served grilled cheese. We're friendly folk that way.
Keen to share our experiences, we created #RoadtripMojo. From trailer camping to RV "glamping," we try to dish out helpful hacks and trusty tips on festival life, venue and campground reviews, gear, apparel, technology, food and fare, and camping culture. With every journey, we've learned a bit more about the music festival camping experience. Call it getting our roadtrip mojo on.
What we've learned is we're not too different from other festival folk we encounter. Driven by a veteran travel journalist and a fellow RVer and music festival fan who's a dentist when not camping, we explore the crossroads where festivals and the open-road intersect. From tech to tunes to travel touches, we try to help road trippers navigate in style, comfort, and confidence to parks, campgrounds, arts and music festivals, or just along the journey itself.
That's why we call it "Camping – With a Better Soundtrack."
So if you see RoadtripMojo at your next festival, stop by. We'll probably have some bacon or grilled cheese going, and a spot for you beside the campfire.