Spring is finally here, paving the way towards warmer temperatures, blooming flowers, fuller shrubs, and greener trees. All of the lively colors overtake the dry, sparse foliage, helping cast a lively ambiance into the air that you can't help but be charmed by.
If you're experiencing itchy feet and can't wait to get your RV back out on the road, spring can be a truly advantageous time to travel. Generally speaking, the weather tends to be warm or cool without being uncomfortably hot or unbearably frigid. It's also not prime travel season, which usually results in finding lower travel prices than you'd experience during summertime. Even better, you're likely to deal with less crowded RV parks and top-tourist destinations.
If you're set on hitting the dusty trail this spring but need some location inspiration, here are a few amazing destinations for you to consider: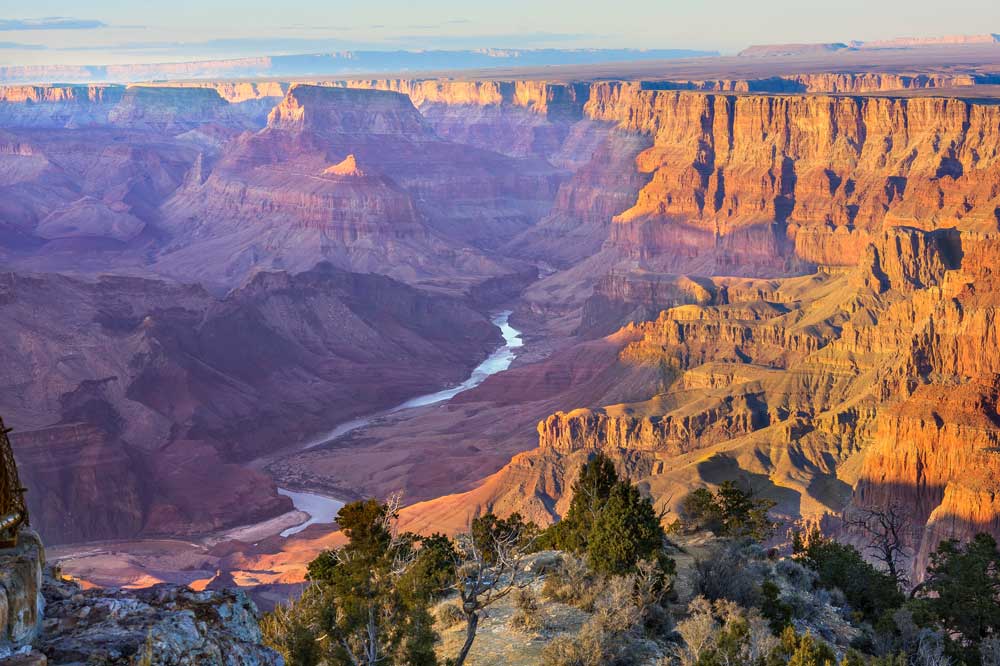 Grand Canyon National Park in Arizona
The Grand Canyon is a world-famous travel spot for a reason. It's an enormous, breathtaking sight to behold, but because of its grandiose beauty, it gets slammed with visitors during the summer months. March-May is the best time to make your way to the canyon before summer comes around, as the crowds are thinner, RV parks won't fill up as fast, and temperatures aren't too hot.
Keep in mind some parts of the national park may be closed if there is still a significant amount of snow, but that won't stop you from having an amazing adventure without the irksome downsides of prime tourist season.
If you truly want to make this trek one for the books, there are a variety of recreational activities to look into, such as sailing the Colorado River, taking a helicopter tour of the Grand Canyon, or going on a unique hike through the canyon.
Where to stay?
There are quite a few RV parks in the area, most of which have fairly good reviews, but Trailer Village is the most widely accessible. It's actually located inside of the national park, offers full hook-ups, can accommodate big rigs up to 50 ft long, and has free shuttle services available. Reservations for this one are tight, even during spring, so call first and reserve as far in advance as you can.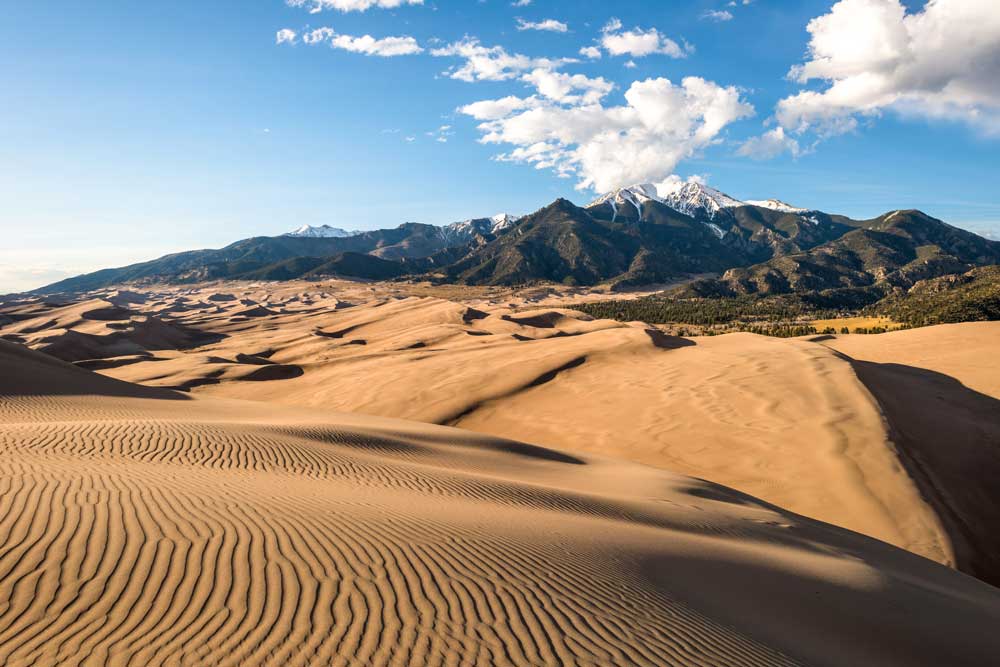 Great Sand Dunes National Park in Colorado
You'll truly feel like you're living inside of a painting when you visit the awe-inspiring sand dunes in south-central Colorado, about 40 miles away from Alamosa. They are the largest sand dunes in North America, with the tallest one coming in at about 750 feet.
The park, expanding over 149,000 acres, isn't just a picturesque collection of rolling sand mountains either. Forests and trails, grasslands, and wetlands are some of the unique landscapes that surround the regal sand dunes.
Spring and fall are often the best times of the year to visit, as the park fills up with visitors in the summer, and the heat is difficult to withstand and makes the sand itself hot to the touch.
There are many opportunities for fun and recreation at this national park, and one of the most popular activities is surfing or sledding down the sand dunes. You can also entertain yourself by hiking, backpacking, wildlife watching, star gazing, and even dipping in the beautiful Medano Creek (though it's probably too chilly in early spring).
Where to stay?
There are a few options, but Oasis Campground is located just outside of the national park entrance and has full RV hookups available. It also has a small store and restaurant on-site.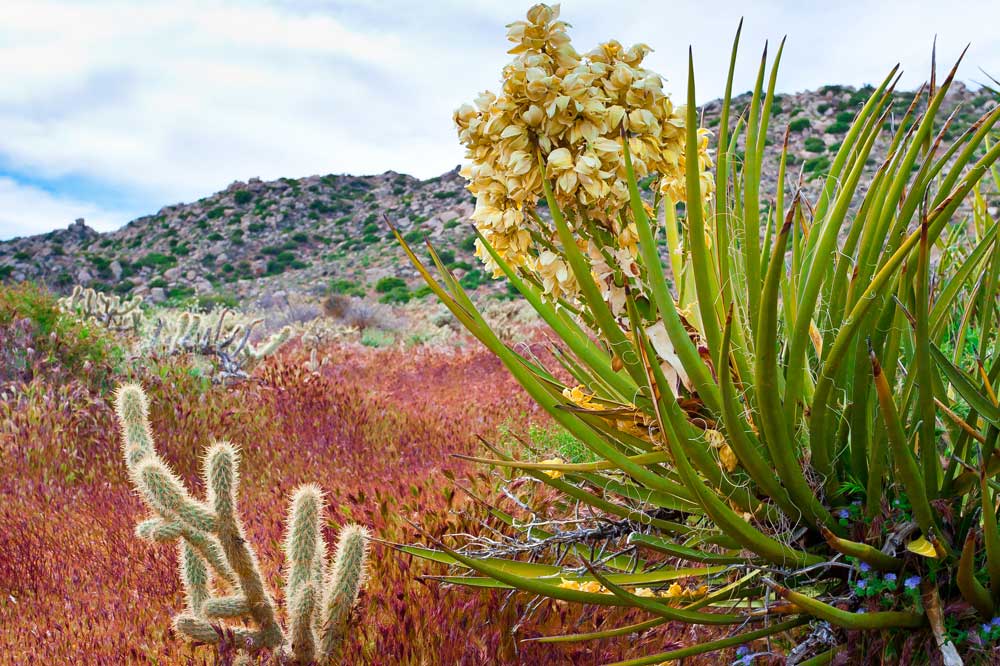 Anza-Borrego Desert State Park in Southern California
Anza-Borrego Desert State Park, located about two hours away from San Diego, is the largest state park in California. The park truly is huge, stretching out over 600,000 acres and offering 12 different wilderness areas with plenty of hiking trails (Borrego Palm Canyon is one of the most visited areas to hike.). When rain is abundant, this state park is known for its vast, majestic array of blooming wildflowers and beautiful cacti.
You'll enjoy the unique boundless desert views, and you may run into the occasional bighorn sheep, lamb, kit fox, or even an iguana. As with any desert, summer heat can be intense, which is why spring is a better time to visit.
Aside from hiking and taking pictures of the wondrous scenery and wildlife, Anza-Borrego State Park is one of few dark sky parks, meaning the community has taken special care in reducing light pollution. This results in extraordinary night-sky views, which is perfect if you're interested in star-gazing or astrophotography
One of the best parts about visiting this park is that you can spend time enjoying the desert and then drive for only a couple of hours until you're at the beach.
Where to stay?
You can boondock in the park, but if you're looking to use your favorite amenities, there are several RV parks in the town of Borrego Springs, which is only a short drive.
Happy Spring RVing!
Hopefully you get to welcome spring in by hitting the road in your RV and exploring one of these amazing locations. Remember that spring weather can be unpredictable, so research weather conditions ahead of time of everywhere you'll be traveling through, bring clothing and tools for both warm and cool weather, and don't forget to look up wildlife safety tips. We hope your first trek after winter marks a season full of many safe and wonderful adventures–happy trails!
Need any RV shade accessories before you hit the road? Carefree of Colorado has everything you need to have a cool vacation!